Hisar Schools to host the international Technovation Challenge for the second time this year
Hisar Schools on February 20 TurkeyCreative in International Technology entrepreneurship He organizes the opening event of the (Technovation Challenge) program. The organization is organized by the students of the school and Technovation graduates who participated in the program in previous years; Computer It is carried out under the guidance of department teachers. 'Technovation Turkey Season Start Opening Event "will be held online this year. Events, middle school and high school students in the Challenge wishing to participate in the program 13-18 young girls aims to bring together. Design Focused Thinking training under this year's event, Hisar Schools and Technovation program A panel discussion with Başak Onbaşıoğlu, Selin Öner and İpek Göktan, and a conversation with Merve Nazlıoğlu, Marketing Assistant Manager of Insider Company, have been planned. Hisar School students have also participated in this contest regularly for the last 7 years.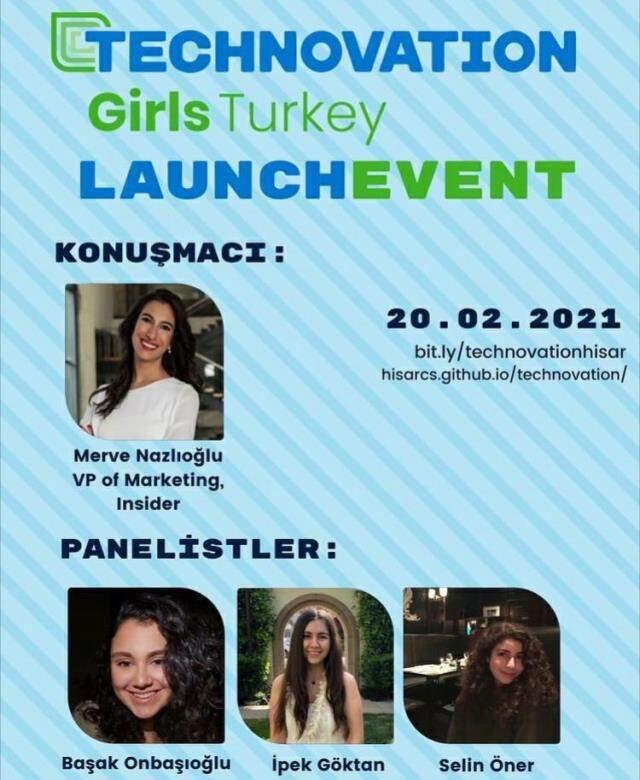 About Technovation Challenge:
Technovation Challenge; An international organization that aims to encourage young girls to solve world problems through technology and develop them in the fields of entrepreneurship and STEM. Each year, the participants address a problem they identify in their environment; They develop a mobile application and develop their leadership and creative problem solving skills by writing business plans on this application. In the event, the participants will not only develop projects (or learn to develop projects), but also listen to the experiences of being a woman entrepreneur in STEM fields from the speakers.
Activity Stream:
10:00 – 10:15 Opening – Introduction to Technovation Challenge
10:15 – 10:45 Main Speaker: Insider, Merve Nazlıoğlu
10:45 – 11:15 Technovation Alumni Panel (İpek Göktan, Başak Onbaşıoğlu, Selin Öner)
11:15 – 11:30 Ara
11:30 – 13:00 Design Thinking Workshop (Dilara Vardar, Hisar Schools Information Technology Center Coordinator)
13:00 – 13:45 Lunch Break
13:45 – 14:30 Design Thinking Workshop Participant Presentations & Feedback.